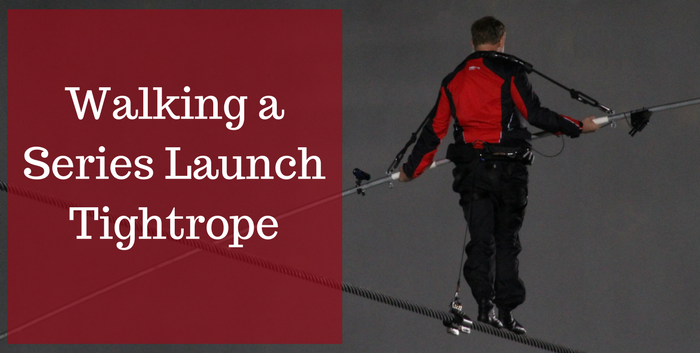 Podcast: Play in new window | Download | Embed
Subscribe Apple Podcasts | Android | RSS
Our guest this week is author Martha Carr who shares her ambitious release schedule for her new thriller series.
This week's show is the start of something we've never done before. If you listen to this show or follow the world of indie publishing, you've heard how important the speed with which you launch the first few books in a new series can be to the building an audience.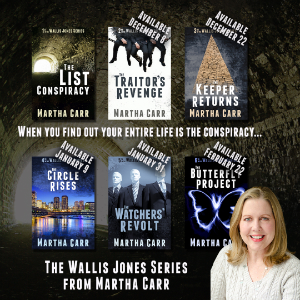 But it's one thing to talk about it after the fact. Today's guest is Martha Carr. She's the author of four books and her newest publication, THE LIST CONSPIRACY, is the first in the Wallis Jones series, a six-book Thriller series. It's the six book part and the release schedule for the series that is the focal point of this show.
Martha comes from the world of journalism and has written a weekly, nationally-syndicated column on world affairs and life that has run on such political hotspots as The Moderate Voice.com and Politicus.com. Her work has run regularly The Washington Post, The New York Times, USA Today, The Wall Street Journal, The Chicago Tribune and Newsweek.
As you'll hear during the interview, she left newspapers and became a novelist, choosing the path of traditional publishing. That ended the way it so often does, with a contract that's not renewed from her publisher.
Not surprisingly, she turned to indie publishing. Then she saw a guy give a talk to about 100 authors in Austin, Texas, which not only changed her perspective, it also changed her plans.
She'll discuss those plans with us today, which includes the launch of six books in her new thriller series over a period of 91 days. She'll also join us about a week after each book in the series is released to share the sales and momentum results in a series of short follow-up episodes.
We discuss all of this and much more in this 42 minute episode.
Show Notes
Martha Randolph Carr background:
First job was selling books in the White House

Behind the scenes from a young age, exposure to a lot of politicians

Columnist that has appeared in multiple publications, including The Washington Post
Newspaper business as a great training ground for writing crime and thrillers
Learning to ask the obvious questions and keep going

Column writing encourages tight, concise language that is good in these genres
Building a Thriller
Know the ending – everything you do is driving there

You have to know where you're going, and who's going to be involved.
Drop easter eggs for fun
Motivational quotes about writing:
"If you do fifteen minutes and you're still this tortured you can get up."
"Things happen when you're willing to at least stare at the screen."
"You can't wait for the muse to hit you, because there are deadlines."
"A great outline will save you."
Traditional vs. Independent publishing
Crossing over into Indie publishing from a traditional mindset does not work
Two groups of Indie authors:
Focused on elements of publishing

Great newsletters, not great sales

Focused on sales

Okay newsletters, but not stunning
Inspired by Michael Anderle
*previous Author Biz guest*
http://theauthorbiz.com/zero-to-10k-per-month-in-90-days-with-michael-anderle/
Fast success

Impressed with his transparency

Willingness to help without reciprocation
Inspired by Scott Paul
*previous Author Biz guest*
http://theauthorbiz.com/how-to-make-real-money-selling-short-fiction/
Mid-process, reanalyzed data to find room for improvement

Member of 20 Books to 50k

Interested in getting the reader excited
Pre-Release Plan:
Revamp the website (done by Michael Bingham-Hawk)

Revise and share covers, titles, blurbs for all six books

Wants to connect with readers and get them involved

Set calendar for book releases, and promote with discounts

Every release date also signals the beginning of pre-ordering for the next book

Releasing short stories in between release dates

Free app in January that allows you to choose your own storyline

Build email list

Instafreebie

Facebook posts, boosted posts, and ads

Links to snippets of stories – invitation to "Look Inside"

Transparency about length of series to build anticipation

Author notes at the end of books
Wallis Jones launch schedule:
The List Conspiracy

(Wallis Jones #1) on sale – December 1st

The Trader's Revenge

(Wallis Jones #2) on pre-order Dec. 1st, on sale Dec. 8th

The Keeper Returns

(Wallis Jones #3) on pre-order Dec. 8th, on sale Dec. 22nd

The Circle Rises

(Wallis Jones #4) on pre-order Dec. 22nd, on sale Jan 9th

The Watcher's Revolt

(Wallis Jones #5) on pre-order Jan. 9th, on sale Jan. 31st

The Butterfly Project

(Wallis Jones #6) on pre-order Jan. 31st, on sale Feb. 22nd
Plans for Thriller Anthology at completion of the series
Links
Get The List Conspiracy free at Instafreebie (through November 28th)
Martha's website www.marthacarr.com
Martha's Amazon author page (coming on December 1st)
Martha's Facebook Page www.facebook.com/WallisJonesSeries
20 Books to 50k Facebook Group
The Author Biz Facebook Group
Thanks for Listening!
Thanks so much for joining me again this week.
If you enjoyed this episode, please share it using the social media buttons you see on the left of the post.
Also, please leave an honest review for The Author Biz Podcast on iTunes!
Ratings and reviews are extremely helpful and mean a great deal to me. They matter in the rankings of the show, and I read every one of them. If you're not sure how to leave an iTunes review, you can follow the step-by-step instructions here.
And finally, don't forget to subscribe to the show on iTunes or Stitcher to get automatic updates.
Thanks to Martha Car for joining us this week!
Please note, Amazon book links on this page are affiliate links.  You'll pay the same price for the books, but I'll earn a small commission.