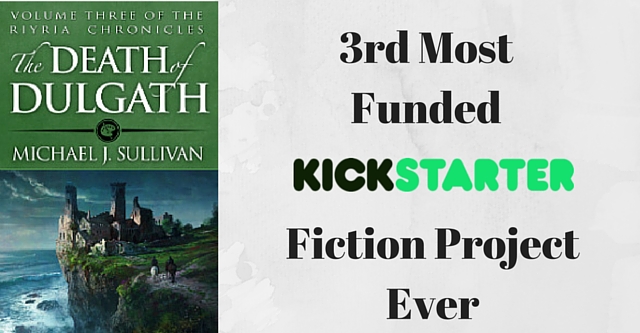 Author Michael J. Sullivan and his wife/business partner Robin, are the guests on this episode of The Author Biz.
Podcast: Play in new window | Download | Embed
Subscribe Apple Podcasts | Android | RSS
Author Michael J. Sullivan and his wife/business partner Robin launched a Kickstarter campaign to raise money to print hardcover editions of Michael's new book, THE DEATH OF DULGATH.
The goal of the ambitious campaign was to raise $26,000 of the $33,600 needed to do a hardcover print, warehouse the books, and distribute them through retail stores. If the project didn't fund, there would still be a book, but it would only be released in trade paperback, ebook, and audio formats.
The Kickstarter launched on June 4th and within 48 hours they had achieved their goal.
When the Kickstarter "officially" closed on July 16th, they had raised $73,163, making it the 3rd most successful Kickstarter fiction project of all time.
But that wasn't the end of the story.
As you'll hear Robin explain, their use of Backerkit allowed them to continue offering fans of the series the opportunity to support the campaign for an additional month., This brought the final total raised by the campaign to over $90,000.
In this 70 minute episode, we'll take a deep dive into how the two of them planned and executed their Kickstarter campaign and how they've arranged for the warehousing and distribution of the 5,000 hardcover books they'll be printing.  
Show Notes
Michael shares his writing background and describes how he and Robin have worked together for the past several years.
Robin is a long time Kickstarter user, and she believed the platform would work for authors.
Their first Kickstarter effort was an experiment with Michael's book, HOLLOW WORLD. Robin expected the experiment would be a success, but even she was surprised at the level of success they achieved with the campaign.
The goal for their HOLLOW WORLD campaign was $3,000. They raised $30,800.
Their most recent Kickstarter campaign was to create hardcover books for the indie release of Michael's new Riyria Fantasy novel, THE DEATH OF DULGATH. The goal for this campaign was $26,000. They passed that level within 48 hours.
Using Kickstarter allowed them to release numerous book-related items for fans of the series.
Robin describes the pre-launch process she used to generate interest in the Kickstarter.
Robin explains some of the rewards they used and how they encouraged people to get involved early by offering a limited number of discounted rewards.
Michael and Robin used BackerKit with their Kickstarter, for a variety of reasons. Robin explains why she's such a fan of the company.
Robin is writing a Kickstarter Primer that she'll be giving away for free. If you're interested in receiving a copy, you can sign up in advance through this link.
Kickstarter fees are much lower than Amazon or other distribution channels, so books sold through Kickstarter projects generate higher net revenues to the author.
Robin explains the importance of the reward levels. She encourages listeners to feel free to borrow hers.
The importance of having achievable stretch goals in a Kickstarter campaign.
The value of having reward levels for fans of all types.
We discuss the process of selecting a printer and finding distribution for the hardcover books they're printing.
Since Michael's books are currently sold in bookstores, they believe the odds of stores stocking this new, indie published novel, are increased.
A discussion of the various printing options the Sullivans considered, as well as some suggestions for printers at different volume levels.
A discussion of their plans for getting the books into libraries.
Links:
Michael's Website www.riyria.blogspot.com
Kickstarter Campaign for THE DEATH OF DULGATH
Robin's Kickstarter Primer Signup 
Michael's Publishing Posts on Amazing Stories 
Michael's Reddit – Write2Publish
Backerkit website
Printers mentioned: 
SIGNATURE BOOK PRINTING, INC – Gaithersburg Maryland
Bookmasters – Ashland Ohio
Thomson-Shore Inc – Dexter Michigan
Book1One – Rochester New York (short run hardcover books)
Distributors Mentioned:
Mascot Books
Partners Publishing Group, Michigan
Atlas Books, Ohio
Independent Publishers Group
Legato Publishers Group
Greenleaf Book Group
Thanks for Listening!
Thanks so much for joining me again this week. Do you have some feedback you'd like to share? Leave a note in the comment section below.
If you enjoyed this episode, please share it using the social media buttons you see at the left of the post.
Also, please leave an honest review for The Author Biz Podcast on iTunes!
Ratings and reviews are extremely helpful and mean a great deal to me. They matter in the rankings of the show, and I read every one of them. If you're not sure how to leave an iTunes review, you can follow the step-by-step instructions here.
Thanks to Michael and Robin Sullivan for joining us this week.
Please note that Amazon links are affiliate links. You'll pay the same price for anything you order, but The Author Biz will earn a small commission.