Author Chris Fox is the guest on this episode of The Author Biz
Podcast: Play in new window | Download | Embed
Subscribe Apple Podcasts | Android | RSS
Chris Fox is an author with a full-time job as an app developer with a Silicon Valley startup company. Like many of you Chris has limited time for writing.
So what's a data and efficiency driven author to do?
Well, what Chris did was to teach himself to write faster, and then he wrote about the process in his new book, 5,000 WORDS PER HOUR.
5,000 word per hour?
Right – My question exactly.
But Chris does hit those speeds, and he thinks you can as well, by training yourself and experimenting with technology like Dragon Dictate software.
Does writing faster = writing crap?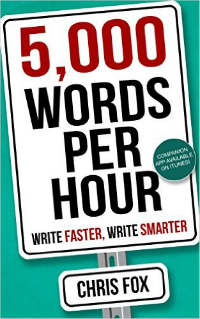 Does faster writing equate to poor writing? That's a question that always comes up with authors who write quickly. Chris's experience is that the faster he writes the better he writes, and his beta readers agree.
His first novel took well over a year to write and polish. His most recent manuscript, which he thinks is his best, took only 13 days for the first draft, and 20 days TOTAL to reach the point where it was ready for beta readers.
In this 47 minute show, we discuss how Chris fits in his writing around his busy work schedule, how he's increased his own writing speeds, the importance of pitching your work to increase awareness and a number of other topics.
Show Notes
Chris shares his thoughts on cover design and editing to publishing a polished book.
Chis, who is best know for his fiction, has just published his first non-fiction book. He explains why.
The desire for writing speed is a business objective for Chris. He, like many of you, has limited time windows for writing.
Chris walks us through his typical day, which includes exercise, writing (during his 90-minute bus commute) and his time working at a silicon valley startup.
Chris's new book, 5,000 WORDS PER HOUR, is a category #1 bestseller at Amazon.
We work through Chris's process to increase writing speed.
The importance of avoiding interruptions during writing sprints. Chris discusses the neuroscience of training yourself to avoid interruptions.
Chris has also written an iPhone app to help himself and others track writing progress. It began as a sprint timer but has been enhanced to include graphs, projects, and other features.
Chris has created a spreadsheet that tracks much of the same information for people who don't use iPhones. He walks us through the details of the spreadsheet.
5,000 Words Per Hour doesn't just focus on new words, Chris also believes we should track our words per hour while editing. Chris averages 3,900 words per hour while writing and around 11,000 while editing.
Chris walks us through the time involved to complete three drafts of Project Solaris, as an example of his current production speeds.
Efficiency is crucial to Chris. He is always searching for new ways to improve the effectiveness of everything he does.
Chris believes the faster we write, the better we write and he explains the neuroscience of his thinking.
Chris uses Dragon Dictate to improve his writing speeds. He shares his experience with using it, and the time it took for him to become proficient.
One of the components of writing faster is knowing what's coming next. Chris believes plotting is an important part of training yourself to write faster.
The importance of the right mindset to business and writing success. Chris shares some concrete examples from his life.
Chis has guested on some popular podcasts lately. He explains his approach to pitching podcast hosts.
Links:
Buy 5,000 WORDS PER HOUR at Amazon
The 5,000 WORD PER HOUR iPhone App 
Chris's Website – ChrisFoxWrites.com
Rocking Self Publishing with Chris Fox
Monica Leonelle Interview on TAB
Chris's Writing Speed Tracking Spreadsheet (download)
Link to Bruce Cantwell's website and serialized version of THE LAST HEARTTHROB
John Cleese Video on YouTube
Like what you hear?
Please consider leaving a review at iTunes and subscribing to my email list. Your feedback helps us know how well we're doing and also lets other people know about the podcast. If you're not sure how to leave an iTunes review, you can follow the step-by-step instructions here.