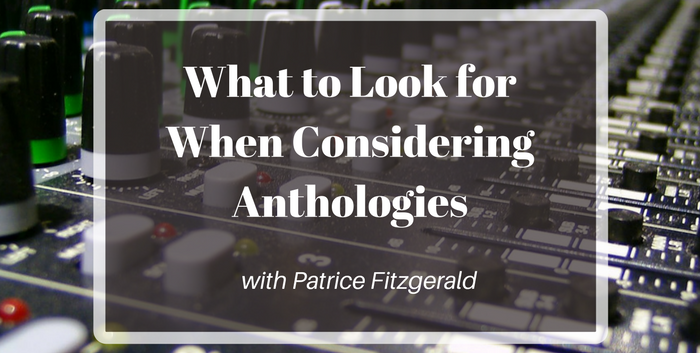 Podcast: Play in new window | Download | Embed
Subscribe Apple Podcasts | Android | RSS
Author Patrice Fitzgerald joins us this week to discuss anthologies.
Do you currently have any work in an anthology?  Have you been asked to submit a story to or maybe to just participate in an anthology? Or maybe, you've been in a few, seen some benefits and decided to produce one of your own.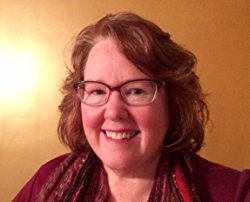 Our guest today is Patrice Fitzgerald.  She's an indie author with what I think is a special insight into the anthology process. Patrice is a former intellectual property attorney who embraced the indie writing world on independence day, 2011. In addition to her own writing, she's participated in multiple anthologies and produced several of her own, including one that was just released, MOSTLY MURDER: Till Death, that features short crime stories from several authors, including one from the legendary Lawrence Block.
In this 49 minute episode, we're hyper-focused on the anthology process, discussing it from the perspective of the participating author as well as the producer slash editor. We also get into things like, why so many attorneys make good authors, her background as an attorney,  and what she needed to "un-learn" from her attorney life in order to embrace her creative side.
In the pre-show, I mention a webinar for Michael Hyatt's Best Year Ever program, for which the Author Biz is an affiliate. I'll be setting up a private Facebook Group for authors who want accountability partners to help them achieve their goals in 2017.  You can signup for Michael's webinar by clicking this link.
Show Notes
Note:  Show notes are written by my new audio producer (YAY – Saving time) Jen McDonnell.  
An "Anthology": a collection of short stories, typically around one particular genre or topic, that are not connected to each other, and are not necessarily connected to anything outside of the book; participated in by a collection of authors, or a collection of one author's work
Background:
 – intellectual property attorney; practiced law for 15-20 years
         – "I'm still an attorney, I just don't practice anymore… I got so good at it, I don't have to practice!"
 – always wanted to write; was writing even while practicing law – has been writing for 20+ years
 – worked for the government
 – copyrights and trademarks
 – freelance writing for magazines and newspapers, and online articles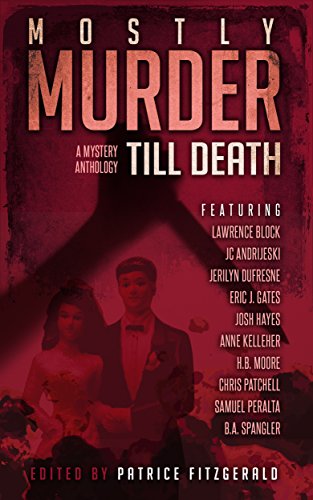 Why attorneys make good writers:
 – comfortable with words
 – detail-oriented
On unlearning:
 – as a creative writer, don't have to be as careful about what you say or how you say it – freeing
Anthology experience:
 – has produced four
        –  Mostly Murder: Till Death, a mystery anthology, released 12/1 at $0.99 until 12/11!
 – contributor of four to six
Mostly Murder: Till Death, a mystery anthology
 – so named because not all the stories feature a murder, but most do
 – stories feature different flavors of couples
 – whole variety of settings and ideas
 – main author is Lawrence Block, "master of mystery," who is the author of the last story to finish the collection strong
 – 80,000 words and 11 stories
Building Mostly Murder:
 – different than previous space opera anthologies (i.e. Beyond the Stars)
 – created out of a Facebook group, took over for original would-be producer Ernie Lindsey
 – called for a vote on title
 – read the stories for approval
 – Patrice edited the stories herself, for more hands-on
 – commission the cover from freelancer
 – send out draft of the eBook for writers' review
 – send out ARCs – Advanced Reader Copies to "prime the pump" for reader reviews
 – starts strong, ends strong, alternates tougher stories against softer stories in between – stories are ordered for variety
Author compensation:
 – $0.05 per word, with a few hundred dollar cap
        – each author receives this once
        – she as the producer pays for the editing, the cover, the formatting, etc, + promo work
 **Some anthologies keep track of earnings per month or per 60 days, and pay authors accordingly
Why contribute to an anthology?
 – wonderful exposure
 – cross promotion
 – fun to be a part of something that breaks through the isolation writers often feel; a lot of trust and camaraderie in Indie field
Lawrence Block influence
 – contacted by Ernie Lindsey to get him involved
 – other authors signed on, excited to be presented alongside him
 – his story will help "put this book into the stratosphere"
 **Lawrence Block was previously interviewed by a very nervous Steve, and was very nice about it
Anthology Agreements
 – wrote it herself based on the template used by the producer of the first anthology she was in
 – special contract with Lawrence Block, as his story is a reprint
 – specific on exclusivity period – 90 days (for Amazon's KDP Select)
 – couple of pages reciting  what producer / publisher will do, what the author will do
Advice on signing an anthology contract:
 – Authors should not pay producers, unless it's a boxed set that requires a small fee (for formatting, editing, production, cover, ads)
 – TRUST is the most important thing! Even if it's someone you know, be careful. Check on experience and reputation.
        – it's as much about the relationship as it is about the paper contract
 – make sure contract is explicit, that it says what you need to know, and that it's clear about what you can expect
 – don't give away too much
 – beware of long exclusivity periods; getting the rights back to your story allows you to put it in your own anthology
Future projects:
 – sci-fi boxed set coming out in June, with 20 full-length novels, available for short-term
 – Next volume of Beyond the Stars anthology
 – hoping for audiobook opportunity
Submissions for Beyond the Stars:
 – reaching out to authors to ask them to contribute
      – authors who are well-known and have a presence on social media (drives sales and recognition)
 – authors taking the initiative to write for the anthology
 – submissions from unknowns
 – authors are bound to offer support to the publication (boost on social media, promote $0.99 release price, plug in newsletters, etc)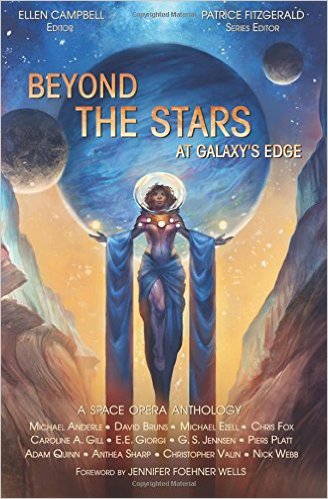 Authors who have been part of Beyond the Stars:
 – Nick Webb:
        – feature author of two of the last Beyond the Stars anthologies, author of The Legacy Trilogy
        – Kindle Worlds (universe supported by Kindle that allows other authors to write in their universe)
 – Hugh Howey
 – Also included stories from Sam Peralta, Michael Anderle, Annie Bellet
Exposure, exposure, exposure
  –  It's important for authors to have their names in as many titles as possible
 – "the Peralta phenomenon"
        – being published in other producer's anthologies has been a career-booster
 – The Indie world is like "an ocean of people bobbing along in the ocean in their little boats, then they get into a slightly bigger boat, then they get into a yacht, then they get into an ocean liner… Everybody is helping everybody…you feel like your friends, and other authors and the fans have your back, and there's no better feeling than feeling that support."
Advice for getting into an anthology:
 – get on Facebook and Amazon look at who is already in anthologies, and reach out to them
 – if interested, ask to be invited to the Beyond the Stars and The Mystery Collective Facebook pages, and submit your work!
        – The Mystery Collective Facebook page
        – The Beyond the Stars Facebook page
Other Links:
Webinar Signup Link for Michael Hyatt's best year ever program
Purchase Mostly Murder: Till Death at Amazon.com
Beyond the Stars anthologies at Amazon.com 
Patrice's author website: www.patricefitzgerald.com
Email Patrice: efitzgeraldpublishing at gmail dot com
Thanks for Listening!
Thanks so much for joining me again this week.
If you enjoyed this episode, please share it using the social media buttons you see on the left of the post.
Also, please leave an honest review for The Author Biz Podcast on iTunes!
Ratings and reviews are extremely helpful and mean a great deal to me. They matter in the rankings of the show, and I read every one of them. If you're not sure how to leave an iTunes review, you can follow the step-by-step instructions here.
And finally, don't forget to subscribe to the show on iTunes or Stitcher to get automatic updates.
Thanks to Patrice Fitzgerald for joining us this week!
Please note, Amazon book links on this page are affiliate links. You'll pay the same price for the books, but I'll earn a small commission.
Please Note, I am an affiliate for Micheal Hyatt's best year every program. Purchasing the program through my affiliate links gets you the same great price AND earns an affiliate commission which helps to support the work that I do in producing The Author Biz.