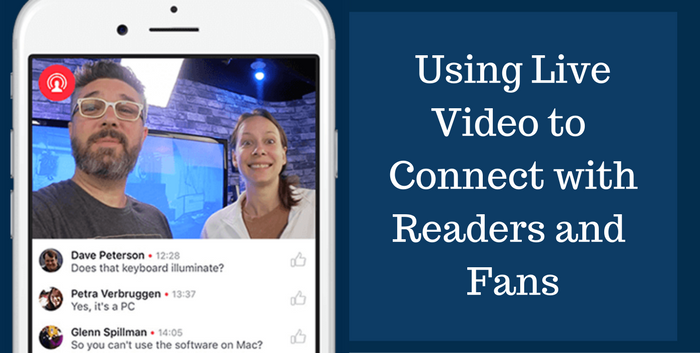 Podcast: Play in new window | Download | Embed
Subscribe Apple Podcasts | Android | RSS
Today's show is about online video – in particular, live video, the kind you see on Facebook each day. Is this something that you as an author should consider? If so, what do you need to do to get started?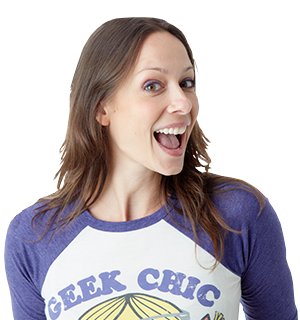 Our guest this week is Luria Petrucci. She's been doing video, both live and recorded since 2005 and has used the connective power of video to grown an audience of over 2 million social followers.  She's produced and hosted video & live streams for her own communities, Samsung, Panasonic, AT&T, OnStar, DISH Network, Verizon FiOS, Bausch + Lomb, BBC Click.

At LiveStreaming Pros, she and her partner, David Foster teach small business owners and entrepreneurs, and if you're an author you fall into that category, she teaches us how to grow our business with live streaming and online video. She's live every day with her partner, David, on the very first Facebook LIVE Daily Show.  
In today's 53 minute episode, we'll discuss the explosion in live video over the past year or so, then get into the things you can begin doing immediately to connect with readers and potential readers. 
Luria walks us through four different ways of going live today, and we'll get into some tips and technology that will help you dramatically improve the quality of your live streams, and put you several steps ahead in the live streaming game. These range in price from the inexpensive, but effective, to the type of equipment that will allow you to produce television quality video.
Show Notes: 
Background and Success:
Filming Tech news and gadget reviews for nine years

Over one billion views, as of a few years ago (has grown since)!
Consistency in content generation: daily or weekly shows for the last eleven years
Damage to community and her audience from personal mistakes has pushed her to grow

How she built her community
Still does tech segments for news stations (recently appeared on CNN)

Pioneer for Live Streaming online, and a guide for others

"I have to teach this, because I can't have it for nothing! People need to know what works and what doesn't."

Currently teaching through brand Live Streaming Pros
Recent popularity of Live Streaming
Technology has evolved to an "explosive" point

Data capabilities, cellular servers

Consumer control

"I don't want to hear from a brand, I want to hear from a person."
They can be the voice out to the world, instead of being only receivers
Human connection

YouTube, Facebook, Periscope

Facebook video is everywhere

Different scenarios: live broadcasts, content delivery, behind-the-scenes, personal connections, news exposés from average people
News stations pick up on stories from personal feeds
Live Video holds vast potential for authors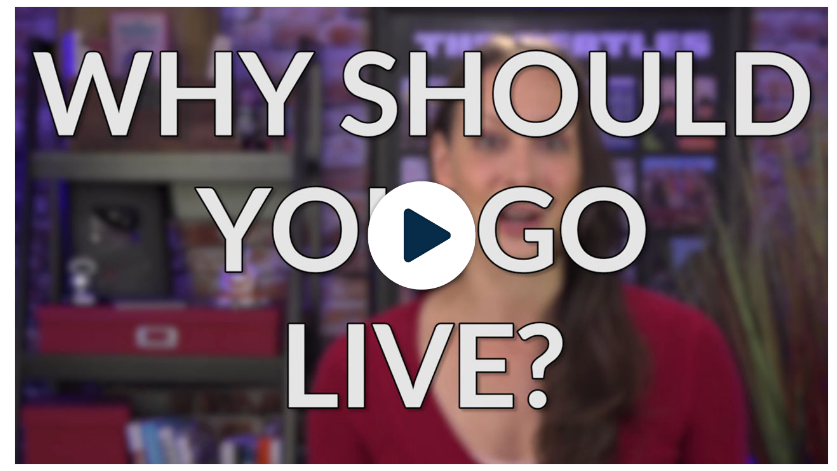 "If you're not putting yourself out there, if you're not being vulnerable, and human, and open with your personal life…if you don't make that connection, then other people will, and you will be left behind and forgotten about."

Exposure and consistency are key; people need to see you

Connect with readers in a powerful new way

Creates deeper connection to characters, because readers can see little pieces of the author in them now

"For the first time, your readers get to know the difference between your characters and you."

Connection Opportunities:

Fan chats
Q & A sessions and book readings via live video

Expands audience; not limited by location or capacity

Curate other people's content; discuss books you're reading

Start a book club!
It doesn't have to all be about you

For non-fiction writers: teach what you're writing about!

Value-driven content; educate your readers

Go Behind-the-Scenes

Talk about what you do from a business perspective, from a creation perspective:

(What's your thought process? How do you go about your work – do you just sit down and start writing, or do you let an idea ruminate for a year before it comes to fruition? How do you technically do your work? Do you use Google Docs or do you have special software that helps you create?)
What you do may seem tedious and unexciting from your perspective, but to non-authors, to your readers, it's all fascinating.

"Get granular, and I guarantee people will be interested in it."
Authors as marketers
Even with a big publisher, you have to be your own marketer

They're not going to give you the amount of attention you could give yourself

"The afterlife of a video"

Find your interested audience, and reach out to them specifically

If no one shows up to a book reading or signing, it was a waste of your time; if no one shows up to your live video, the video still exists for later discovery
Available for promotion through newsletter, email list, Facebook ads and groups
Record your video on your phone, and post it to YouTube or your blog
Colleen Hoover
Lots of Live Video with phone
Every time she goes live, she has a ton of viewers

"We are a voyeuristic society. By giving [her readers] that, she's 'winning,' because she is connecting the author that people know, the name that people know, with an actual personality that people can draw into."

"Slice of life" videos: at the store, receiving batch of books, etc
Engagement level with video
Steve went live, thanks to Luria's "badgering," and found that his brief live stunt received more comments on Facebook than anything else posted on The Author Biz page!
"People want to hear from you!"
As authors and, in some case, podcasters, your audience rarely gets to see your face. They only hear your voice.
Live video is a conversation

With chat, your readers/viewers can connect with you in real time!
Four Levels of Live Streaming:
Level One: "Anyone can start and you should start."

Positives: accessible (you can go live from Facebook, from your phone), free, and the easiest way to get started
Drawbacks: shaky cam, audio issues, and it's up-close and personal (this is a positive and a negative, depending on your comfort level)

Level Two: adding gear to your phone (wide-angle lens, video stabilizer, microphone)

Additional gear: Saramonic Smart Mixer ($150): audio adapter for iPhone and Android
Positives: increases quality (eliminates one of the drawbacks from Level One), cheap, and easy

Level Three: going live from a computer using software (OBS, Wirecast)

Suggested Materials: Wirecast ($500 investment), and a newer computer that can handle the software
Positives: takes professionalism up a notch, allows more capabilities, better branding opportunities, huge quality improvement (if done right)
Drawbacks: tech hurdles introduce more points of failure
Applications: Weekly Show

Builds consistency and trust

Level Four: TV-quality production (has all the bells and whistles)

This is what Luria does at Live Streaming Pros (and what CNN, NBC, etc does)
Positives: most reliable, best processing power, best quality, most options
Live Streaming Strategies
Getting over yourself to go live

You're going to be left behind and forgotten about; other people will outdo you
Have to be committed, have to understand why it's important
"You may be uncomfortable with, and have fears about, going live; but the way you're feeling inside is not what comes out, and is not what other people see."

Go live for ten days about whatever, to whomever, and you will see a huge change in your comfort level!

Avoiding cruel commenters

if you go live from Facebook, your audience is made up of people who already know, like, and trust you
Make it even more private: invite friends and family to a specific group you set up and start there until you're more comfortable

Do not be afraid to be human

Mix put-together, super-prepared, made-up presentation with raw, as-is appearance videos

This encourages connection
Live Streaming Pros
30-minute Daily Show (10 am PST, 1 pm EST)

Often has a featured guest or topic to help others learn about live streaming

Simultaneously streams to Facebook, Periscope, and YouTube

Offers courses in strategy, foundation and structure, technical how-to, and monetizing live shows
One-on-one coaching through online systems
Will even travel to help others set up a professionally-produced live show!
Offers a quiz to determine your goals, what level streamer you are, and a how-to guide on getting started (www.livestreamingpros.com/quiz)
Links:
Luria's website www.livestreamingpros.com
Seramonic Smart Mixer at Amazon.com
Wirecast Software website
OBS Software website (Free, open source software)
Books by Brandon Barr at Amazon.com
Thanks for Listening!
Thanks so much for joining me again this week.
If you enjoyed this episode, please share it using the social media buttons you see on the left of the post.
Also, please leave an honest review for The Author Biz Podcast on iTunes!
Ratings and reviews are extremely helpful and mean a great deal to me. They matter in the rankings of the show, and I read every one of them. If you're not sure how to leave an iTunes review, you can follow the step-by-step instructions here.
And finally, don't forget to subscribe to the show on iTunes or Stitcher to get automatic updates.
Thanks to Luria Petrucci for joining us this week!
Please note, I am not only a student of Live Streaming Pros, I am an affiliate.  Links on this page are affiliate links.  You'll pay the same price for the courses, but The Author Biz will earn a small commission.