Jennifer Fusco is the guest in this episode of The Author Biz.
Podcast: Play in new window | Download | Embed
Subscribe Apple Podcasts | Android | RSS
When I say marketing, what's the first thing that pops into your mind?
Is it positive, or negative?
Most authors aren't in love with marketing.  For many it's a chore.  Something that has to be done, rather than something they enjoy.  Writers want to write, not market.  But marketing is something that must be done if an author wants her work to be found in today's world.
My guest in this episode is Jennifer Fusco.  She's a marketing professional with over a decade of experience at one of the largest companies in the world. She's also a romance writer, with her first book coming out this fall.  But for our purposes today she's the author of the newly released book, MARKET OR DIE – A Down and Dirty Guide to Marketing Your Book.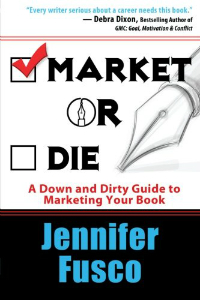 Jennifer says that "Marketing is about building relationships. And those relationships will generate demand for you and your work."  That's it.
Jennifer has the unique ability to take the tried and true fundamentals of sound marketing strategy and translate them into something that's understandable, and actionable for authors at every level.
We're spending the entire 49 minutes of this interview talking about marketing for authors.  Some highlights include:  
Jennifer shares the background for her book, MARKET OR DIE.
Jennifer translates her 14 years of experience in corporate marketing for General Electric into a guide book of marketing strategy for authors.
We discuss the value of a sound and effective marketing plan.
Jennifer shares her thoughts on author branding, which she describes as "This is who I am, and this is what my books are about."
She offers specific examples of authors who brand themselves particularly well.
We discuss the importance of doing a SWAT analysis (strengths, weaknesses, opportunities and threats) for your author business.
Jennifer describes the process of performing an Author Landscape Analysis.
When thinking of competition for your books, think outside of just books, to games, movies and other forms of entertainment.
Jennifer believes that investing in discoverability is more important than investing in specific promotions for individual books.
A discussion of the Sphere of Influence of an author, and you can expand it.
Jennifer offers some great advice optimizing your email list, through segmentation.
Links:
Purchase Market or Die at Amazon
Jennifer's website www.MarketOrDie.net
The Author Biz Listener Survey
If you like what you're hearing on The Author Biz Podcast, the best way to support the show is to take just a few seconds to leave a rating and/or comment over on iTunes.  Thanks!