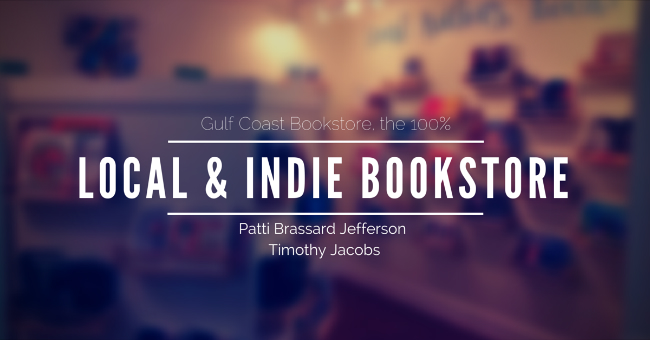 Authors and entrepreneurs Patti Brassard Jefferson and Timothy Jacobs are the guests in Episode 42 of The Author Biz.
Podcast: Play in new window | Download | Embed
Subscribe Apple Podcasts | Android | RSS
Picture this: You're sitting behind a table stacked with copies of your latest novel at a local bookstore.  You smile at the young woman in line who smiles back and tells you she loved your last book, and can't wait to read this one.  You ask her name and inscribe the book, then pose for a picture with her and her young son. You sit back down, smile at the next person in line and start the process over again.
If you're a traditionally published author you've very likely experienced a version of this scenario. But for indie authors, this is not something that happens without a lot of work.
It's difficult for self-published / indie authors to get their books into bookstores. Even their local bookstores, and that can be frustrating.  After all, who wouldn't enjoy seeing a reader pluck one of their books from the shelves and carry it to the register.
That's no doubt one of the reasons why this Publishers Weekly article about an indie only bookstore in Fort Myers, Florida spread so quickly late last month.
As you'll hear in the interview, Patti Brassard Jefferson and Timothy Jacobs grew frustrated when trying to get their books into local bookstores and decided to create the Gulf Coast Bookstore.
Gulf Coast has a unique business model that allows authors to essentially keep 100% of the sales amount for their books, after paying a very modest monthly rental fee. The bookstore has a limited number of slots available for authors and they've established a wait list for those who want to get their books into the store.
In this 37 minute interview, we learn about the business model for the store, the reaction of the local community to the idea and get some advice from Patti and Tim for anyone considering opening one of these bookstores themselves.  
Why Tim and Patti decided to open a bookstore featuring only independently published local authors.
Tim explains the bookstore's startup phase and staffing requirements.
Both Pattie and Tim are very plugged into the local writing community, but they were surprised by the number of local authors they didn't know when news of the bookstore began circulating.
Is their idea something that others can duplicate? Both Tim and Patti say yes.
Tim explains the business model for the store. Authors pay rent of $20 per month and retain 100% of the sales revenue. (They do have a $15 setup fee and a three-month minimum. There is a small credit card processing fee for non-cash sales.)
After only 30 days, the bookstore is already turning into a community spot for local authors to gather and talk.
Patti draws a comparison between their bookstore and the craft malls that popped up in the 1990s.
Authors are paid monthly for book sales.
Both Tim and Patti offer specific advice to authors, writing groups and others who are interested in launching their own indie bookstores.
Links
Patti Brassard Jefferson – www.pbjauthor.com
Gulfcoast Bookstore www.gulfcoastbookstore.com
Gulfcoast Bookstore Facebook Page
If you like what you're hearing on The Author Biz Podcast, the best way to support the show is to take just a few seconds to leave a rating and/or comment over on iTunes, or through your iPhone. Thanks!