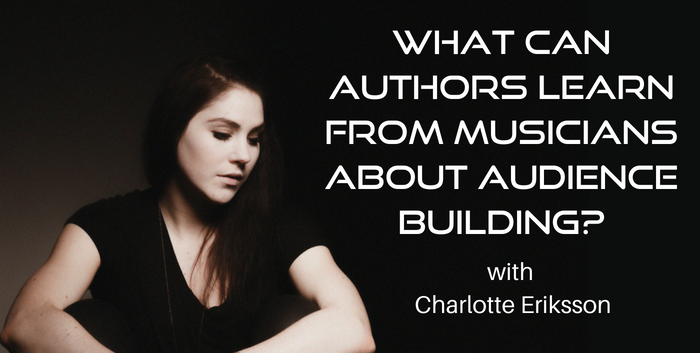 Podcast: Play in new window | Download | Embed
Subscribe Apple Podcasts | Android | RSS
Let's talk about how most authors learn best practices for audience building.  Primarily, we listen to and learn from other authors. Maybe on podcasts, like this one, or in books written by authors on how they've done it, or maybe we just learn by asking questions in social media groups, or at conferences.
But there are other creative entrepreneurs out there who deal with the same need to build fan bases.  Artists, photographers, filmmakers, musicians and more.
What can we learn from them and how they build their businesses?  That's something I've been thinking about a lot recently, and so I'm very pleased to have Singer/Songwriter, Author and Creative Entrepreneur Charlotte Eriksson as this week's guest.
The intro music for this episode comes from a song called White Spaces, written and performed by Charlotte, who as you'll hear during the interview has branded herself as The Glass Child.
I Listened to her music while doing the research for this episode, and what I learned while doing that research is that she's a talented marketer who has built an enormous audience for her work in both music and writing.
In this episode, We'll talk about what Charlotte does to build her audience and how it applies to authors, and even do a little comparing and contrasting.  Then we'll close the show with another of Charlotte's songs, titled Save Me.
Links
Thanks for Listening!
Thanks so much for joining us again this week. If you'd like a deeper connection with the show, please check out the Author Biz Facebook Group.
If you enjoyed this episode, please share it using the social media buttons you see on the left of the post.
Also, please leave an honest review for The Author Biz Podcast on iTunes!
Ratings and reviews are extremely helpful and mean a great deal to me. They matter in the rankings of the show, and I read every one of them. If you're not sure how to leave an iTunes review, you can follow the step-by-step instructions here.
And finally, don't forget to subscribe to the show on iTunes or Stitcher to get automatic updates.
Please note:  Amazon links in this post are affiliate links. You'll pay no more for buying through these links but the show will earn a small commission.