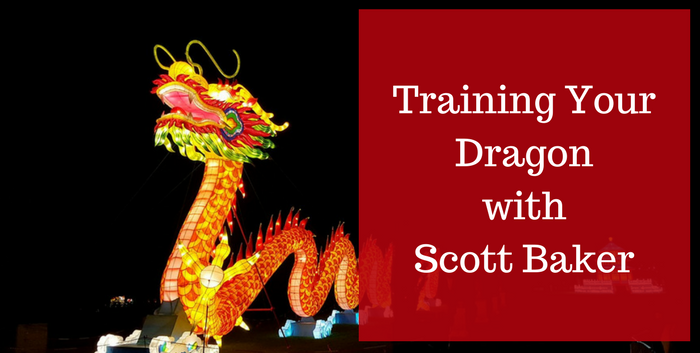 Podcast: Play in new window | Download | Embed
Subscribe Apple Podcasts | Android | RSS
Today we're digging into a subject that always generates discussion, both pro and con, when it's mentioned on the show.  That subject is dictation. Using dictation to write either part or all of your books.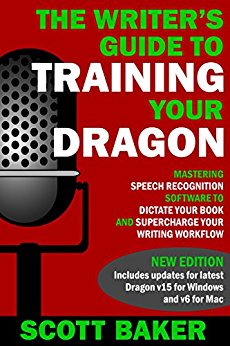 Today's guest, Scott Baker is the author of The Writer's Guide to Training Your Dragon: Using Speech Recognition Software to Dictate Your Book and Supercharge Your Writing Workflow. He's also written dozens of other books under various pen names and spent most of the last decade working as a freelance writer for different publications in the UK. He first began dabbling with Dragon voice recognition software in the late 1990s and now uses it on a daily basis, taking advantage of the tricks and techniques used by professionals within the speech recognition industry to write thousands of words per hour.
In this 61 minute episode, we'll dig deep into the whys and hows of using Dragon Dictation as an author, including Scott's recommendations for software and hardware.
Show Notes
Scott Baker

authored dozens of books under various pen names
operating as a freelance writer for various UK publications for the last ten years
has been using Dragon voice recognition software since the 1990's

used by pros in speech recognition industry

S.J. Pajonas (Stephanie Pajonas)

turned to Dragon when she started having health problems

writes thousands of words per hour

member of the Facebook group, "Dragon Riders – Authors Dictating"

Why use dictation?

relieves physical strain
saves time, gets work out quicker
can increase word count
"It's another weapon in your arsenal – it gives you options."

How dictation works

Fiction (most difficult)

dialogue
punctuation has to be orated by name

Nonfiction

easier (no dialogue)
still have to dictate punctuation

Training your brain to work with Dragon

Scott has a book coming out, Training Your Brain to Write with Dragon
The process takes some getting used to, but you do get used to it

"Writing is not typing…writing is a mindset."
Talking, dictating, can make you a better writer

While dictating dialogue, Scott found himself in-character, saying the dialogue as the character in the story

Once you make the adjustment, if you have high accuracy, it can be life-changing for a writer's workflow

Don't look at the screen

this helps you keep your flow, and keeps you from editing

Training Dragon

You have to train the software to recognize:

your voice
what you write

nuances of subject matter

you can set up different profiles for genre

once you do this, it gets 98-99% accuracy

Scott's eBook, Quick Cheats for Writing with Dragon, free on Amazon

https://www.amazon.com/Quick-Cheats-Writing-Dragon-Recognition-ebook/dp/B01DR5TPNW

Method:

set up a profile
train Dragon with documents you've already written

2,000 words from a story you've already written

it's recognizing your voice, and learning the type of writing you're doing
you're also training yourself on doing this
do this two or three times to properly train the program

if any mistakes, say "Correct [this]"

Dragon will give you a list of alternatives, and you choose the correct one

this offers further training; the program further adjusts in this process

you can also say, "Spell [that]"
Always correct the mistakes through dictation, not the keyboard

this is how the program gets better

error correction varies between the Mac and PC versions of the software

Mac is a little less elegant

Don't:

read the built-in Dragon texts, they were written by someone else
dictate emails

too complex (spelling errors, replies, different authors)

Dragon Details

works best on a computer with an i5 processor, SSD, and 8 GB of RAM

Parallels ($50 – $60) or VMware Fusion
Windows license

Windows 10 upgrade is free for Microsoft if you're using an assistive technology – Dragon qualifies as such
If you have a previous Windows license, you can input the ISO key and upgrade it

Dragon is stored on the computer's hard drive, including all the tweaks it make (the profile) – this makes it susceptible to computer crashes

can be stored in cloud storage for backup
can set up a backup within the program

You have to invest in the equipment to use with Dragon to get all the benefits from it

if you take shortcuts on the equipment, your accuracy will go down

a microphone is included in the box for Dragon, but it is not a good one. Get your own. Spend the money.

Suggested equipment: (three dictation sources, max)

decent desktop microphone
decent USB headset ($40 – $50)

wired is better than wireless
Andrea Electronics or Plantronics recommended

 transcription device (Steve bought this one)

Different versions of Dragon

PC

the most current consumer version is Dragon NaturallySpeaking Premium, v13 (~$70)

came out several years ago, still current
allows transcription anytime, anywhere

this is the "killer feature" of Dragon
the home version (Home 13) is cheaper, but it doesn't let you do transcription

the most current version Dragon Professional Individual v15 (~$300)

the differences are negligible

Mac (not as good as PC versions)

every Mac version has had issues

Dragon for Mac 5.0.5 offers no more updates, it could get knocked out by an OS update
Current version is Dragon Professional Individual v6

"It is riddled with problems…the most unstable version of the software they've ever released"
completely unusable a couple months after release

not worth $300 for something so flaky

Q&A from The Author Biz Facebook group (starts at 42:43)
Links:
Purchase The Writers Guide to Training Your Dragon at Amazon
Scott's Website: www.trainingyourdragon.com
Purchase Dragon Naturally Speaking 13.0 Premium for PC
Purchase Dragon Naturally Speaking for Mac
Join us inside the Author Biz Facebook Group
Thanks for Listening!
Thanks so much for joining us again this week.
If you enjoyed this episode, please share it using the social media buttons you see on the left of the post.
Also, please leave an honest review for The Author Biz Podcast on iTunes!
Ratings and reviews are extremely helpful and mean a great deal to me. They matter in the rankings of the show, and I read every one of them. If you're not sure how to leave an iTunes review, you can follow the step-by-step instructions here.
And finally, don't forget to subscribe to the show on iTunes or Stitcher to get automatic updates.
Please note:  Amazon links in this post are affiliate links. You'll pay no more for buying through these links but the show will earn a small commission.
Creative Commons Image by Highline