Bestselling Thriller Author Russell Blake is the guest in episode 27 of The Author Biz podcast.
Podcast: Play in new window | Download | Embed
Subscribe Apple Podcasts | Android | RSS
Writing titles for blog posts and podcasts can be tricky. I could have called this How to Sell 1,000,000 books in your first 3 1/2 years. Or, how to write over 35 books in 42 months, and both would have been great "link bait" type titles, but neither would capture the value provided in this episode by Russell Blake.
You see, Russell has discovered one of the great secrets to success as an author. Writing.  A lot of writing. He calls that content creation, which is the part of his business where he's most focused.
His most recent book, JET – Survival, is a great example the type of fast-paced thrillers he writes that appeal to sophisticated readers around the world. JET – Survival, is the 8th book in his bestselling Jet series.
He has several other series running as well and is currently co-authoring his second book with publishing legend, Clive Cussler. The first book they wrote together, THE EYE OF HEAVEN,  debuted near the top of the New York Times Bestseller list when it was released in September.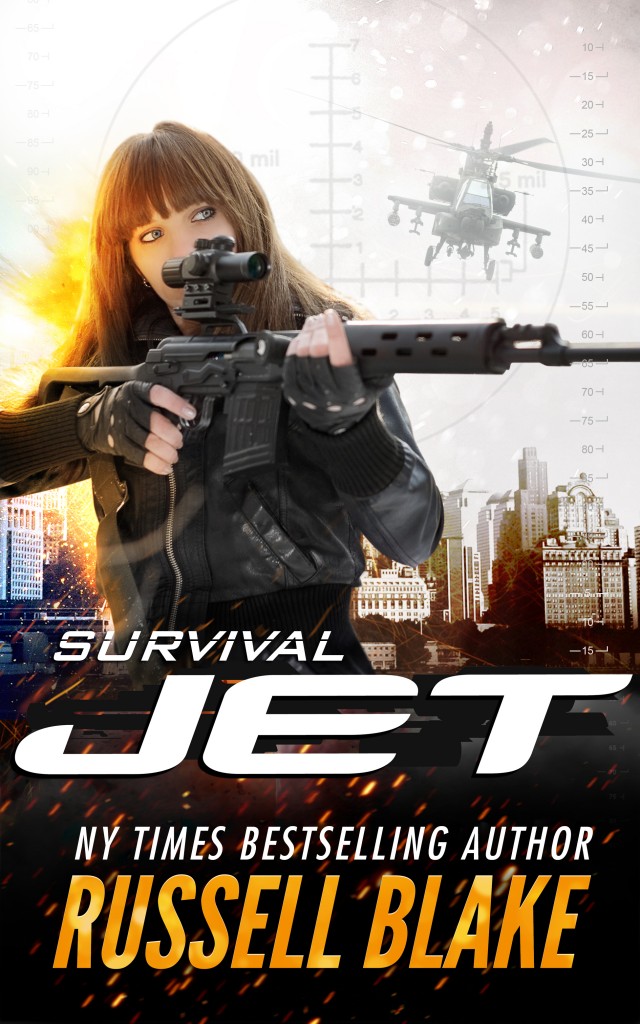 As you'll hear in the interview, the primary driver of Russell's success is that he spends 85% of his time creating content (writing books).  He spends the remaining 15% on things like quality control, marketing, sales, and writing for his blog, which is read by writers of all types.
In this 52-minute episode Russell and I discuss a variety of subjects, including:
Russell's initial business plan was to hit a specific monthly revenue goal for his author business. He resigned himself to writing as many books as it took to hit that target.
Russell's first royalty payment from Amazon was less than $20. By his 6th or 7th month of publishing, with several books available for sale, he exceeded $1,000 for the first time, and things took off from there.
Russell sees himself as being in the entertainment business. He shares the genesis of his highly entertaining and bestselling Jet series.
The value of experimentation – with pricing, covers, and even genres. Russell experiments because he doesn't know what's going to work. He calls this his "shotgun approach" and says it's exactly the same approach that most big publishers take.
Russell looks at his Author Business as two separate operations. The content creation side (writing books) and the Bookselling side (marketing, distribution and sales). He tries to keep the two roles separate, recognizing that they require two entirely different skill sets.
He describes his pricing philosophy and how it has changed over the past few years.
It is his belief that no one really knows how to market books. He's yet to see anything short of throwing millions of dollars at a book that will consistently work. He notes that what works with one genre, may not work for another and gives examples.
Russell's social media philosophy is to be interesting, relevant and as timely as possible. If he's successful in capturing people's attention by being himself, maybe they will be interested enough to buy his books.
He believes that word of mouth is the primary driver of sales for his books, rather than any marketing he does on his own.
Russell describes the team that helps him to be so productive, and explains how he put the team together.
The benefits of working with a publishing legend like Clive Cussler.
As authors, we should be able to define the value proposition of our work in a single sentence. Russell shares the value proposition for the Russell Blake brand and explains the need for a value proposition for each of your books.
The value of focus to success in any field.
Links:
Russell's website  www.russellblake.com
Russell Blake's Amazon Author Page
Being Nora Roberts Blog Post
Rocking Self Publishing Interview with Russell Blake
Like what you hear?
Please consider leaving a review at iTunes and subscribing to my email list. Your feedback helps us know how well we're doing and also lets other people know about the podcast. If you're not sure how to leave an iTunes review, you can follow the step-by-step instructions here.